For almost a decade now, I have devoured books and attended numerous workshops on the topic of effective writing instruction. I follow stellar literacy leaders on Twitter, and I periodically dabble in the blogosphere. I'm a wanna-be-writer, with limited confidence, and I can't seem to get over the hurdles in my path. I've got an arsenal of resources and enough knowledge to last a lifetime, yet I've never been able to fully execute writers' workshop with fidelity. My knowing/doing gap seems to widen each year, and to be quite honest, I'm annoyed with myself. Teaching in a stand-alone, STAAR tested grade level keeps my hands tied behind my back, and my practiced values do not match my aspirational values.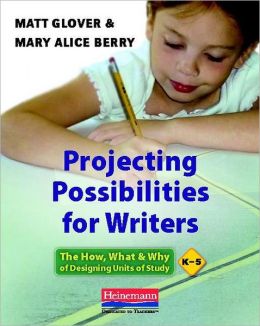 I recently attended a literacy conference where Matt Glover, author of
Projecting Possibilities for Writers
,
challenged me to the core. He prompted me to reconsider the types of mentor text I put in front of children, and he spoke passionately about the power of choice. Like Donalyn Miller, he believes that when we take away choice, we disempower learners. As an outspoken
proponent
of students self-selecting books, I've never really transferred this belief to writing. As disgusted as I am to admit this, my students live on a steady diet of prompt writing, directly related to STAAR. My beliefs are shifting, but my behaviors remain the same.
It's time for me to take action.
As the session drew to a close, he discussed the difference between nudging and pushing learners.Glover said when we ask kids to improve fifteen things at once, we are pushing. Nudging requires us to provide one or two teaching points designed to build agency. I left his workshop feeling liked I'd been pushed over the edge, but one simple nudge he offered was to write for at least 15 minutes a day. I figure I can tackle this small task here on the blog, in my personal journal, and through email correspondence. If I write alongside my students, and I choose my own topics, perhaps I will find the inspiration, courage, and tenacity to step out of my comfort zone and do what is right by kids. It's time to give "the test" the finger and live out what I claim to believe. How's that for a nudge?