My husband and I recently attended the TASB conference in San Antonio. During a dinner conversation, several of the DISD school board members relayed the story of Steve Pemberton, the keynote speaker and author of A Chance in the World. They spoke about the individuals on Mr. Pemberton's personal Mount Rushmore, and that got me to thinking about the people who have influenced my life. I decided to make this a team building exercise for my new 4th grade colleagues, and I had a blast superimposing the faces of my top four using PhotoFunia.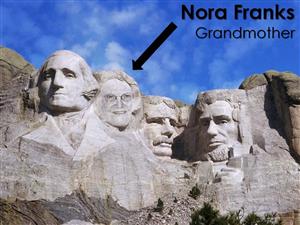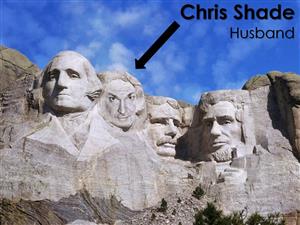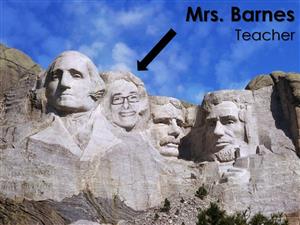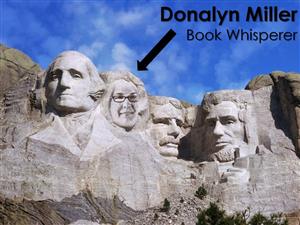 Each of these people have impacted my personal and professional life in lasting, meaningful ways. The foundations they built for me continue to shape who I've become, and I am eternally grateful for their wisdom and guidance. There are countless others I could have chosen including
Penny Haight, Tiffanie Carothers, Trinitie Garrison, Debbie Thornton,
and
Marly Natherson
. Below is a short tribute to my Mount Rushmore people. I love you, admire you, and respect you. Thank you for being who you are and for holding my hand on this journey we call life.
My grandmother, Nora Franks, is truly my hero and the "Wind Beneath My Wings". Every resiliency my siblings and I posses came from her relentless support and unconditional love. She sees a silver lining in every situation, and there is no one else on Earth I treasure and admire more. She gave me stability, taught me about faith, and modeled what it means to be a lifelong learner. I would not be the person I am today with out her constant love and attention. She was my mom, my dad, my grandmother, my parent, my legal guardian, and my hope. Her commitment to raising children is unparalleled, and generations of little ones have become readers on her lap.
I was Miss Franks for over half of my career. Positive male role models were lacking in my family of origin, and I refused to settle for anyone less than God's best. Chris and I met in Jan. of 2007, and after a whirlwind courtship, we were married 6 months later in a private ceremony on the beach in Santa Monica, CA. He continues to exceed my wildest expectations, and our marriage is gift I get to reopen every day. Watching him parent my bonus children, Hunter and Chandler Shade, has been a healing force in my life. Chris is quirky, creative, and brilliant. He challenges me to be a better teacher, wife, and human being. He's my Captain and I'm his Tenille.
My third grade teacher, Mrs. Barnes, has influenced my life in lasting, remarkable ways. She is the reason I am a reader, a thinker, and an educator. From the age of eight, I became an honorary member of the Barnes family, and we continue to share a unique bond today. Mrs. Barnes always has a book in her hand and a recommendation on her lips. She has taught young children for over 25 years, and her legacy continues. After each of our marathon teacher talks, Amazon gets wealthier and our
to-be-read
shelf on Goodreads overflows. Mrs. Barnes is my mentor, my friend, and my colleague.
Professionally, I want to grow up to be just like The Book Whisperer, Donalyn Miller. I discovered her work about halfway through my teaching career, and her passion for literacy continues to empower me today. I think authors are rockstars, and I am Donalyn's groupie. I follow her on Twitter, and I try to attend any conference where she speaks. The NerdyBookClub blog, which she moderates with Colby Sharp and Cindy Minnich, helps me stay current with the latest titles written for children and young adults. She is a book evangelist, and I am a more voracious reader because of her influence. Thanks for daring greatly and sharing your passion with the world Donalyn!
I challenge all of you to consider who you'd carve in stone on your personal Mount Rushmore. Take the time to write them a letter, send an email, or simply pick up the phone and call them this week.