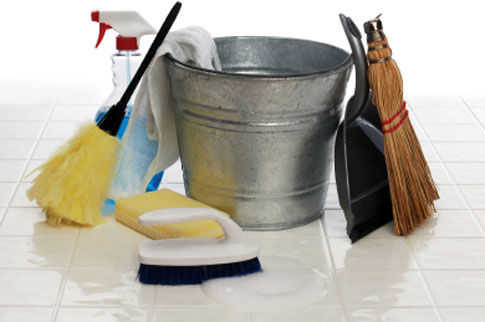 The crumbs on the kitchen linoleum taunted me. Water-spotted mirrors mocked me. Dust covered end tables nagged at my conscience. I spent the early morning hours attempting to avoid the inevitable task of cleaning our tiny apartment, but by 10:00 a.m., I knew I had to face the music.
Begrudgingly, I rummaged around under the kitchen sink grabbing Clorox, Comet, and a handy-dandy Magic Eraser. I considered sweeping the floor first, but I realized this would be an epic mistake due to the bits, morsels, and fragments of food littering the counter top. Using all the elbow grease I could muster, I started scrubbing every surface I could see. I wiped down all the appliances and the polished the stove top. Next, I swept and mopped the floor. I shined the the kitchen sink until I could see my reflection. The fresh aroma of bleach and Lysol drifted through the whole apartment.
While I tidied the kitchen, my husband slaved away in the bathrooms. After vacuuming, dusting, and sweeping the baseboards, the whole place began to feel a little more alive. I opened the mini-blinds to let in the mid day sun, and a feeling of warmth and accomplishment washed over me like a wave gently rolling onto the shore. The task was complete, and the sense of dread I'd felt for days slowly vanished. Somehow Downy drenched sheets and Fresh Linen Scentsy warmers made everything in the world seem right. Chris and I spent the rest of the day enjoying the fruits of our labor, and as I cozied up on the couch to read a book, I realized hard work pays off.